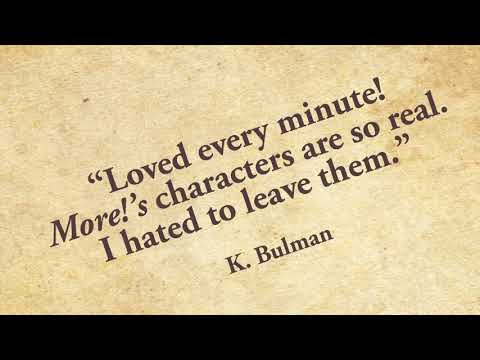 ▶
Now Available!
from Award-Winning Author Tammie Rothermel
MORE!
by Tammie Rothermel

Narrated by: Tammie Rothermel
Production by: Stonehome Publishing, Inc.
When One Gets More! Than They Asked For!
Living at home in a small town, Nicole is thrust into the life of famed singing sensation, Grant Hendersen. Their first encounter is true love! Each step of their romance and later their professional relationship is a minefield that they must maneuver through the obstacles successfully. It isn't until later in their relationship that Nicole discovers the true Grant and her life of overcoming even more thrown at her.
The author, Tammie Rothermel creatively weaves a colorful, well-constructed story that is unforgettable. Each character central to the storyline is well developed, those that are supporting characters are developed just enough to move the story along. The plot twists are well-executed and while anticipated they are still suspenseful at times making the treachery even more poignant.
Interesting story and well-written. Several themes run throughout the story - domestic violence, what is love, what would you do for someone you love, and more!
The narrator, also the author Tammie Rothermel gives a solid performance. Each emotion thought, and action has the right amount of emotion projected. Her cadence is smooth and steady paced. She is pleasant to hear.
There were no issues with the quality or production of this audiobook, it was clear and well produced.
Disclaimer: This Audiobook was provided free of charge by the author, narrator, and/or publisher in exchange for a non-bias, honest review.
Rock, Roll and Espionage
An Exhilarating Ride
Worlds collide and sparks ignite when a simple country girl encounters a white hot rock star in rural Pennsylvania. Certainly, small town Nikki wasn't looking for love. But, from the moment she meets the universally-famous Grant Henderson, More! comps the reader a backstage pass to the secrets, glitz, glam and romance of a sizzling rock star's non-stop life. As Nikki climbs on board Grant's comet, her own charisma engages the world, even as a mysterious stranger pursues her from Naples to Hong Kong. Along the way espionage's notorious "Agency" sucks Nikki into its beguiling embrace of treachery.
Advance Reviews
"Loved every minute! More!'s characters are so real. I hated to leave them." K. Bulman
"Non-stop action with unexpected twists and turns lure readers into Nikki's adventures. It's mystery, music and intrigue for the girl-next-door diva." L. Good "
More! will stay with me forever. Couldn't put it down! Give me more!" S. Yourk
E-book is Now Available! Place your Order Below
Audio Book News
The Audible version of More! is now available! Not a member of Audible? Sign up below.
Liz is ready to listen, join her!